---
13 inch Alvin Clark Refractor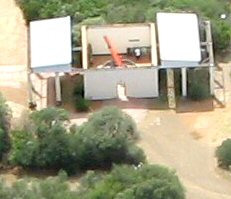 The 13" refractor is a remarkable telescope - it is over 110 years old, but is in top condition and its image clarity is any amateur astronomer's envy. Its adaptability for different eyepieces and photographic equipment is a great strength. The telescope has an 8 inch refractor mounted on it, an excellent telescope in own right. Two finders assist diligently.

The history of the telescope goes back to 1889. It was initially mounted at Mount Wilson (USA) and after about a year moved to the Harvard Southern Station in Peru. The 13" was also one of the first telescopes to move to Boyden Observatory near Bloemfontein. It did professional research during its existence both at Arequipa in Peru and at Boyden in Bloemfontein, South Africa. It is currently used as an educational instrument for public evenings, tourists and school groups.

More information on the History of the 13 inch.


---
Photos of the 13 inch's building and the telescope inside

---