Boyden Science Centre Auditorium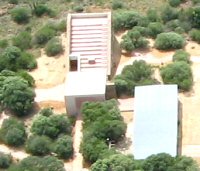 The Auditorium (pictured building with step roof) was completed in 2004, with a donation from the Shuttleworth Foundation. It seats 100 people inside and can accommodate 200 people on its roof. The latter configuration is used for open sky presentations. The previous lecture hall (pictured lower right) is being transformed into a science exhibition area.

The inside of the auditorium is custom made for high-performance multi-media presentations. A large wall for digital projector shows ensures a visually stimulating experience for every audience. The excellent sound environment adds to the impact. The auditorium is used as Boyden's primary presentation facility.

From the top of the auditorium, visitors can appreciate the beauty of a 360 degree Free State from vantage points.