20 cm Coelostat (Solar Telescope) - Boyden Observatory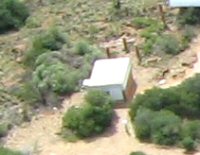 The coelostat is a telescope specifically made for observations of the Sun. During its research days at Boyden, it was used to professionally study solar properties.

The telescope is currently used for educational purposes, especially when school groups visit the Observatory during daytime. A large real-time image of the sun's disk is projected onto a wall and solar flares as well as sunspots can easily be seen.
More information on the History of the Coelostat.

Photos of Solar Telescope at Boyden.
Last image in sequence shows photo taken during Transit of Venus in 2004.
---